Allow me to introduce to you my niece, Megan Nichole Lobetti. She was born September 22, 1997. Unfortunately, Megan was born with Spina Bifida, which had left a portion of her spine completely exposed and was causing fluid to gather around her brain.
She underwent surgery immedialely after her delivery to repair and close the opening around her spine and to insert a shunt which would allow the fluid to drain from around her brain. After surgery, Megan stayed in the hospital for over a month.
Megan is doing well concidering her condition which at the present time may have left paralysis in her legs. But where there is life there is hope. Megan just celebrated her first birthday, Praise God, and is the most contented and loving child I have ever known!
Megan loves her big brother Joey, and he really loves her too. He sings songs to her and kisses her cheecks and gives her big hugs. Joey is very protective of his little sister, just like all big brothers should be.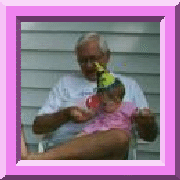 Megan is... as you can see, Pappaw's little girl. She loves to sit in his lap and thoroughly mess up his hair. He enjoys it as much as she does. Pappaw sings and Megan will try her best to do a little dance while sitting in his lap.
The purpose of this page was not only to introduce you to this little miracle, but to sincerely ask for your prayers for Megan and for all the rest of the children in the world with this illness.
I believe that Jesus came, as he said, that we might have life and have it more abundantly. So, please pray for Megan and all the other little children to have and enjoy the abundant life that they are all entitled to as God's children.
I'm sure that Megan's parents would love to hear that your prayers are with them. Any encouragement is appreciated.

Write them at: Dawn and Joe Lobetti



From here you can visit:

Megan's Pappaw's Page

Megan's Uncle Tim's Page





We would all like to thank you for taking the time to hear about our little Miss Megan.


God Bless The Children